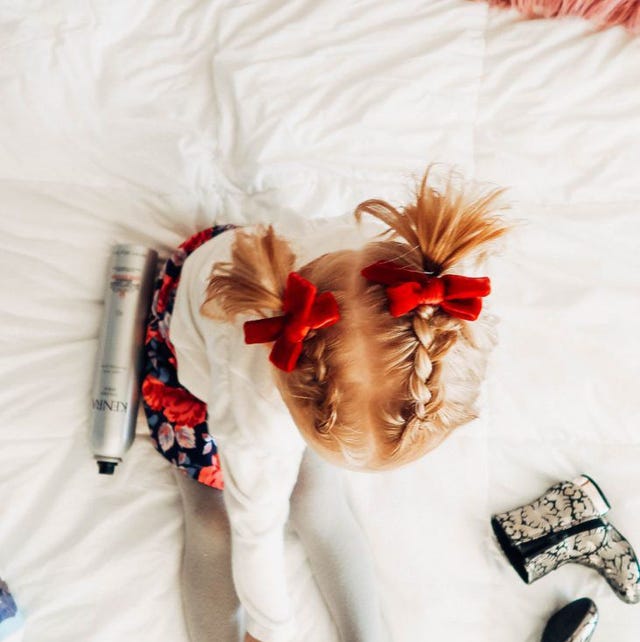 Your little one's hair is a beautiful thing—that is, when it's not a messy, knotted, bedhead-ridden disaster. When that is the case though, you're always the super mom (or dad!) tasked with turning a night's worth of relentless pillow friction into something presentable, all before the school bus arrives. And we get it—with so much hair and so little time, some busy mornings mean that a quick comb through a colorful barrette is as good as it's going to get.
But on days when your little girl demands a more done-up look, you don't have to race the clock thanks to the vast number of easy kids hairstyles out there. You can never go wrong with the basics—ponytails, pigtails, buns, and the like. And once you've mastered a basic braid, you can quickly churn out more creative spins on any style, all of which only look like you've spent hours. For more complex (but still super simple!) 'do's, consider fishtails, criss-cross braids, and cool wrapped ponytails—but only if you can manage to get your toddler to sit still long enough. Have fun helping your little one get ready every day (well, some days) with any of these basic kids hairstyles.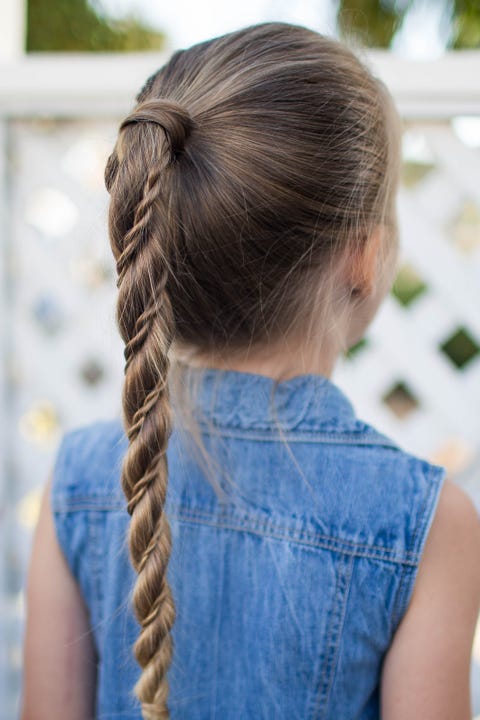 Whether to spruce up her go-to ponytail or keep her hair tightly in place during soccer games, this twisted creation works for any occasion and only takes five minutes, tops.
Get the tutorial at Cute Girls Hairstyles.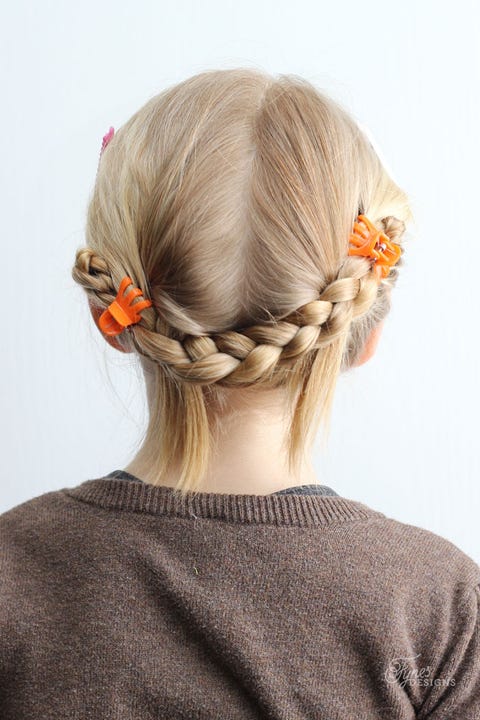 Don't let looks fool you—this hairstyle may seem beyond your skill level, but it's basically two braided pigtails secured with colorful clips. Easy enough, right?
Get the tutorial at Fynes Designs.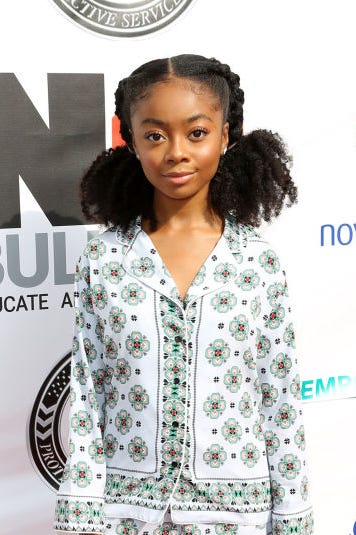 Disney alum Skai Jackson rocks two side Dutch braids pulled into low pigtails, which you can recreate on your daughter in no time.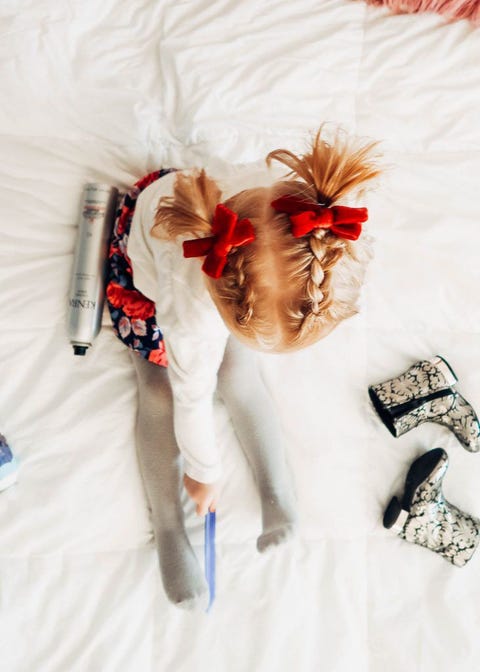 Add a bit of texturizing spray to damp hair before getting started—and make sure your little girl has the patience to sit in one spot long enough!
Get the tutorial at Positively Oakes.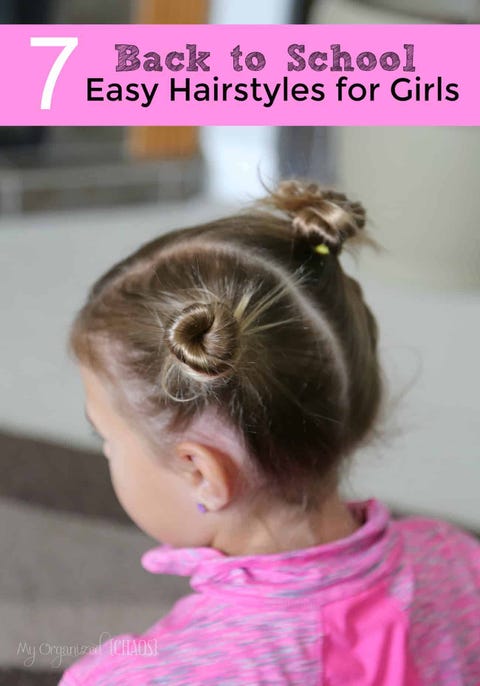 Make these messy buns your go-to when you're running behind before school.
Get the tutorial at My Organized Chaos.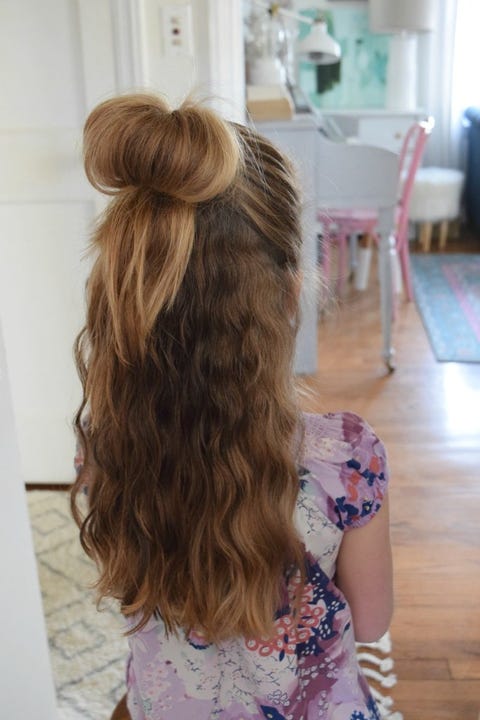 For young girls with longer locks, this easy updo keeps hair off their faces, takes zero time to assemble, and makes for an adorably voluminous top knot she'll love checking out in the mirror.
Get the tutorial at Nesting With Grace.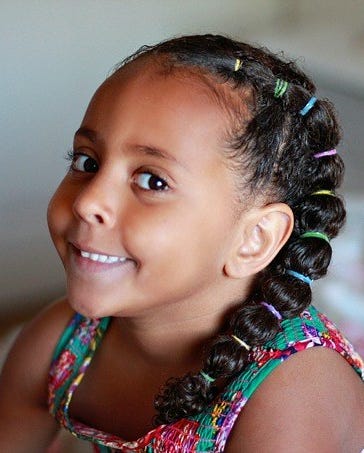 Especially perfect for muggy summer days, pull back her beautiful hair with a bit of leave-in conditioner and a handful of colorful hair ties.
Get the tutorial at De Su Mama.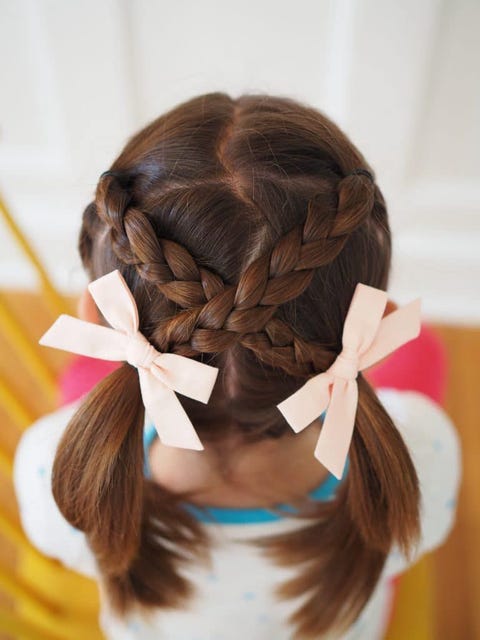 With X-shaped braids and matching pink bows, pigtails have never looked so cool. Note: The style works best on wet or damp hair.
Get the tutorial at The Chirping Moms.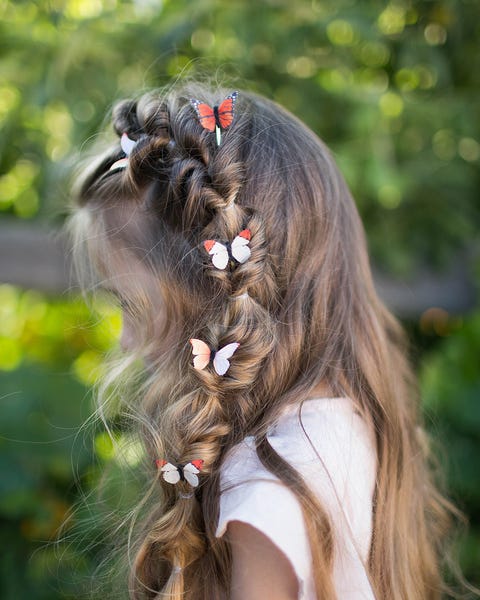 Step-by-step instructions and a video tutorial will guide you through this reverse take on a side fishtail braid. Butterfly clips to top off the look are a must.
Get the tutorial Cute Girls Hairstyles.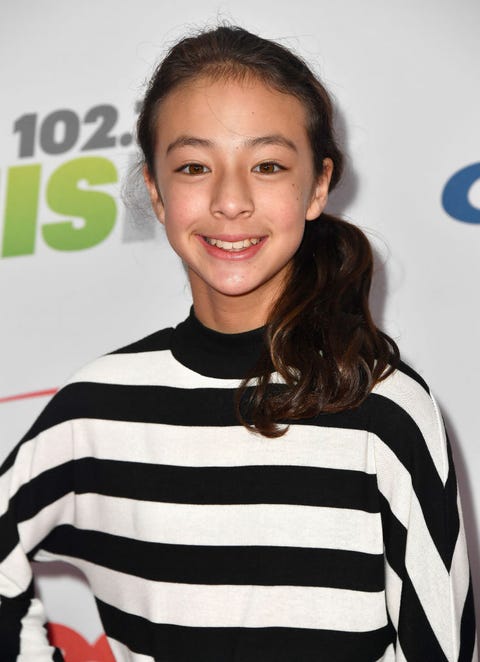 It's simple, sleek, speedy, and looks amazing on any hair length—as evidenced by Modern Family's Aubrey Anderson-Emmons, whose strands are styled at the nape of her neck.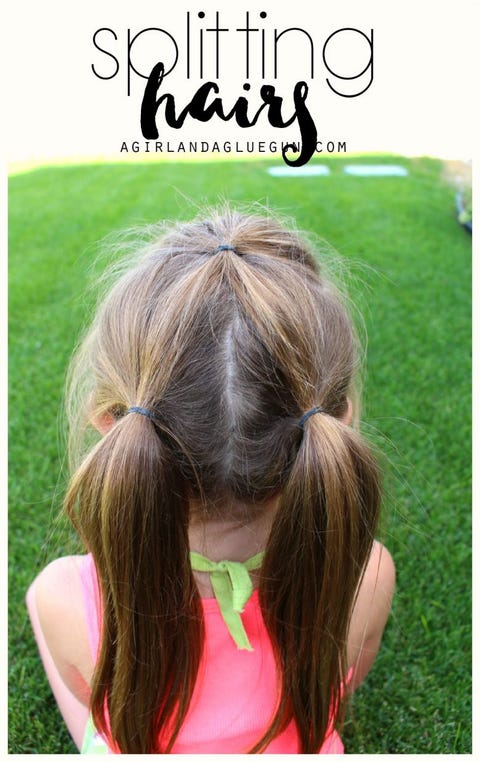 Secure the front portion of her hair, bangs included, and then section off into two pigtails.
Get the tutorial at A Girl and a Glue Gun.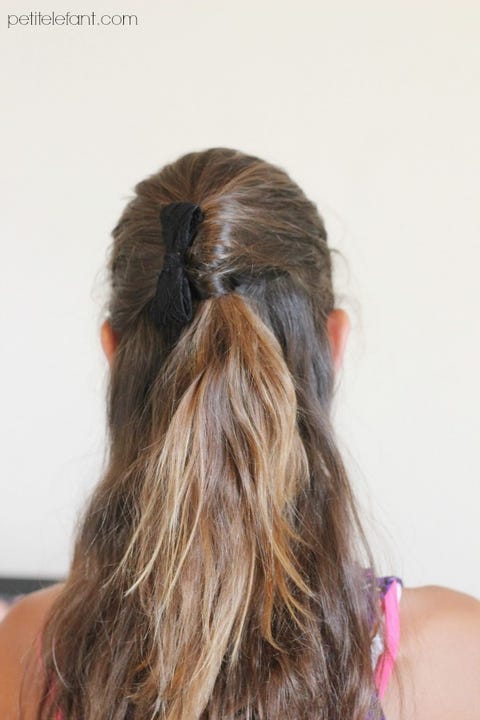 Seal this elegant look off with a bow and send your daughter to school in style.
Get the tutorial at Petite Elefant.
13
Braids With Half-Up Twist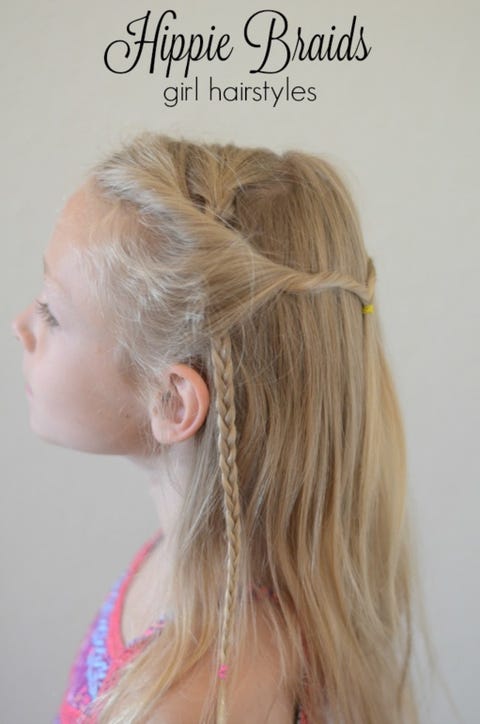 Starting with a side part, form two braids on each side of her hair, followed by a centered twist in the back.
Get the tutorial at Mom Trends.
14
Criss-Cross Braided Buns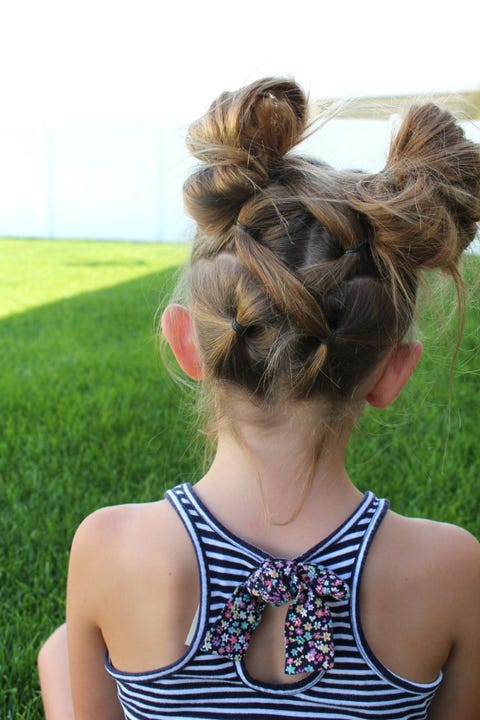 Here's another hairdo that's way easier than it looks. Simply make three sets of pigtails, then criss cross them up her head and secure into mini buns.
Get the tutorial at A Girl and a Glue Bun.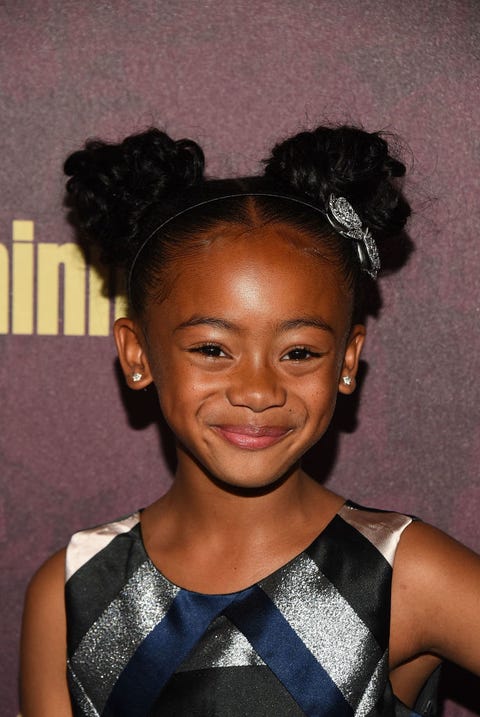 No matter how she likes to wear her locks, you can easily stick in a statement-making headband and call it a day. Here, This Is Us star Faithe Herman shows us how it's done with a pretty headband, which only enhances her matching buns.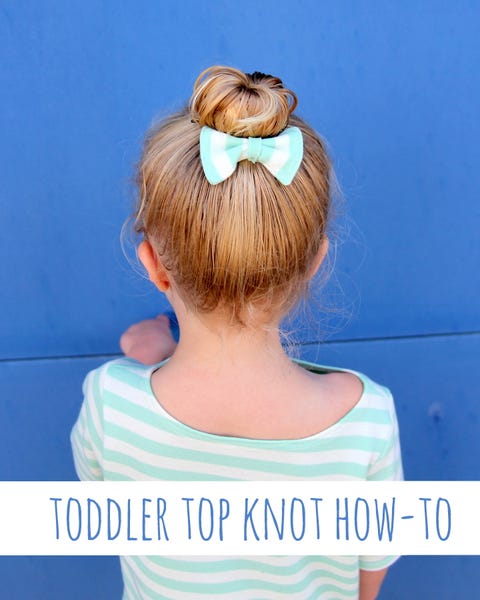 Salvage a leftover (clean) sock to use as the base of your little girl's ballerina-worthy bun.
Get the tutorial at Kojodesigns.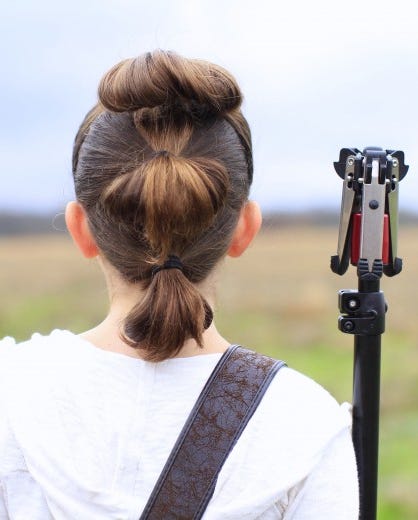 May the force be with you as you work your hair magic for this Star Wars-inspired 'do.
Get the tutorial at Cute Girls Hairstyles.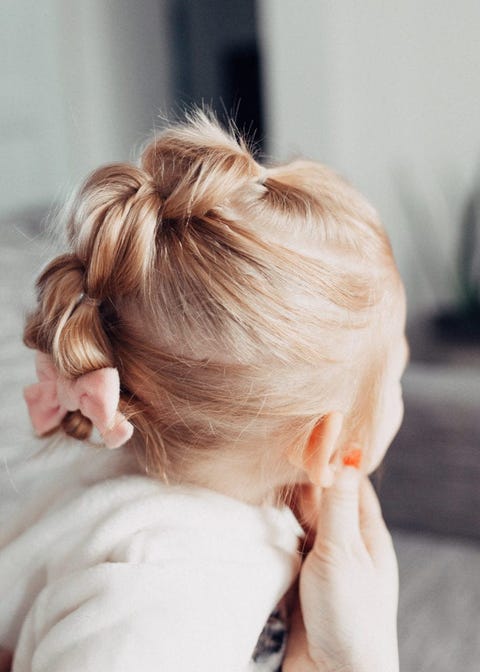 Your little one will look oh-so-cute sporting this easy hairstyle. Add to the adorableness and enhance the hair "bubbles" with a small bow.
Get the tutorial at Positively Oakes.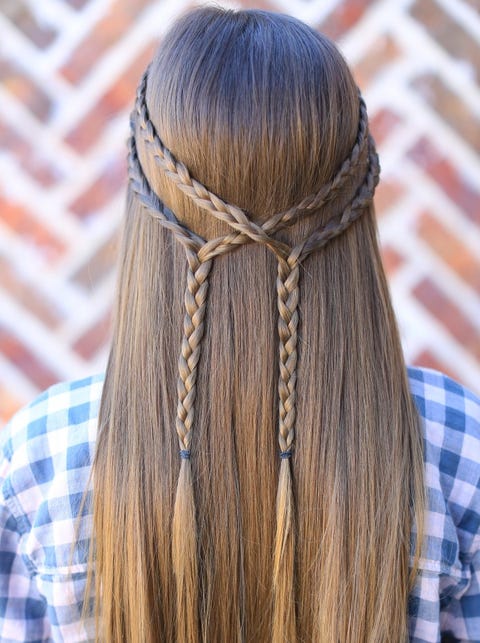 Give tweens some hairstyle love with a bohemian braided style, which works on any hair length and texture.
Get the tutorial at Cute Girls Hairstyles.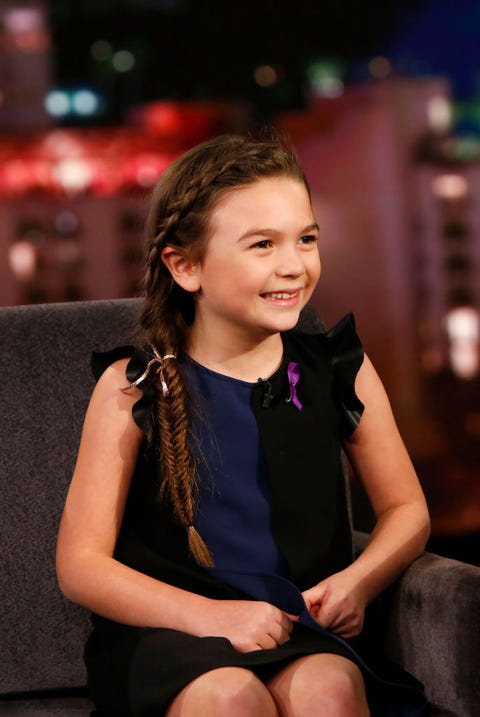 Combine two different braid styles into one. The Angry Birds Movie 2actress Brooklynn Prince's hair starts with a standard braid along her hairline, then subtly turns into a shoulder-grazing fishtail.