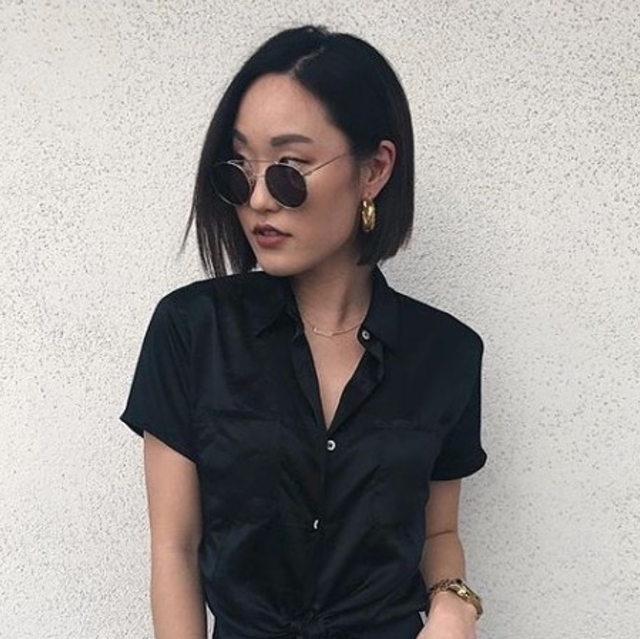 To grow your hair out long or to cut it short…that is the question. The good news is that if you have fine hair, a hairstylist has the answer: go short. "When fine hair gets long, it loses its strength and the ends start to become thinner, often breaking on their own, which then gives the illusion that the hair is even finer than it actually is," explains hairstylist Angela Soto, owner of Baja Studio in New York City. "By keeping the hair short, you preserve the most dense and healthy parts of the hair (from roots to mid shaft) which will make hair look more full."
There are endless types of short cuts, but Soto says the best for fine hair is a blunt bob. "There could be variations of this but the goal is to keep as much strength as possible on the ends to help give the illusion of fullness," says Soto. "When working with fine hair, it's all about a strong shape and less about layers."
As for length, Soto says that around your collarbone is generally best if you don't want to take it too short, but also notes that "above the shoulders is where you'll be able to achieve the most density." You can also change up the shape by adding a soft angle in the back. If your hair is wavy or textured, Soto likes a "Bridgette Bardot-esque modern shag with face-framing bits and a 70's style fringe with a center part."
Consistency is also key when it comes to your haircut. "Finer hair has a tendency to break naturally, so regular trims will help keep your strands strong as well as maintain your shape," says Soto who recommends booking an appointment every six to eight weeks.
Once you're ready to style, Soto likes to add in texture (if you don't already have textured hair) with a curling iron or wand to help expand the hair to make it appear fuller. "Salt sprays and texture sprays are your best friend," adds Soto. "Applying a salt spray at the root when the hair is wet and then giving it a light tousle gives the root a lot of volume." Finally, she suggests avoiding any heavy oils or leave in moisturizers that can weigh your hair down or make it oilier faster.
Now that you know you want to go short (or in case you need some more convincing), here are some of our favorite short hairstyles to help you get inspired to make the chop.