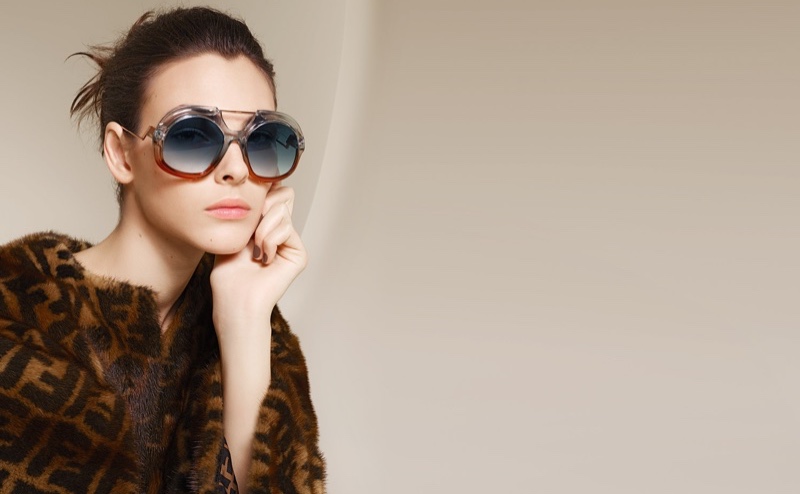 With some 6.5 million members across the globe and nearly 400 employees People for the Ethical Treatment of Animals ("PETA") has come a long way from its earliest days when two animal rights activists uncovered the animal testing being done on 17 wild-born macaque monkeys at the Institute for Behavioral Research in Silver Spring, Maryland in the early 1980s. In the process of a ten year fight for custody of the monkeys, PETA's founder Ingrid Newkirk and fellow activist Alex Pacheco gained international renown, and PETA was born.
For much of its nearly 40 year history, PETA – and its crusade against factory farming, fur farming, animal testing, and the use of animals in entertainment – has been synonymous with its shocking media campaigns, from its nudity-centric "I'd Rather Go Naked  Than Wear Fur" ads to its penchant for flour bombing Kim Kardashian and Vogue editor Anna Wintour, among others.
The fashion industry landed on PETA's radar approximately 20 years ago. When the animal rights organization began expanding its operations, it "realized the fashion industry was an area that could attract a lot of media attention," Racked noted in 2017.
With its new target in mind, PETA "started by focusing on fur, which involved a lot of letter-writing in the days before email and protesters trying to land themselves in front of TV cameras, and a few brands and retailers caved to the aggressive organization's pressure. It's big break came, however, in early 1994. Just days after PETA "invaded Calvin Klein's offices on Jan. 25 … spray-painting 'kills animals' under the Calvin Klein emblem in the reception area and putting stickers on the walls reading 'fur hurts,'" as the New York Times revealed at the time, the brand announced that it would cease all use of fur.
Fast forward 25 years, and PETA is still relentless. However, its efforts have evolved. While activists can still be found holding signs and picketing outside off fur-selling companies' stores, or hopping onto runways mid fashion show, PETA rather recently adopted a new tactic: small-scale equities acquisitions.
LVMH Moët Hennessy Louis Vuitton's shares trade on Euronext stock exchange, making them accessible to anyone who wants to shell out € 334.00 per share (as of Thursday evening). In early 2016, a new shareholder entered into the LVMH ownership circle. PETA announced that it had acquired a single share in the Paris-based luxury goods conglomerate.
The announcement came less than a year after PETA acquired a single share in Hermèsin 2015 for $360, and would be followed by subsequent similar buys of Prada and Canada Goose stock, among about 80 other fashion and on-fashion companies like SeaWorld, McDonald's and Kraft Foods.
The single shares that PETA has amassed are far from symbolic; they grant PETA reps access to companies' annual shareholder meetings. This "gives PETA a new forum in which to present the research we've done to company executives, their shareholders and the public," says Ashley Byrne, a campaign specialist for PETA.
For instance, in May 2017, a representative for PETA confronted Hermès' chief executive officer at the company's annual general meeting. Isabelle Goetz, a French spokeswoman for the non-profit animal rights organization, attended the brand's annual general meeting and pressed CEO Axel Dumas about whether Hermès planned to stop using exotic skins, including those of ostriches.
Goetz got a response. According to Dumas, "Our farming conditions strictly comply with international regulations because we want to apply the best practices in this field, and I think that Hermès has always been at the forefront of wanting to pay attention to ethics and the treatment of animals." However, much to PETA's dismay, Hermès continues to make use of exotic skins.
At a separate meeting across, LVMH was reportedly far less welcoming. Reps for PETA claim that they were refused entrance to an April 2017 LVMH shareholder meeting after announcing that it would challenge the use by the conglomerate's fashion brands of crocodile and ostrich skins for their accessories. PETA threatened the corporate giant with legal action after being kept out of the meeting. Meanwhile, LVMH, which owns Louis Vuitton, Dior, Givenchy, Loewe, Fendi, and Marc Jacobs, among others, has refused to budge on its use of fur and animal skins.
PETA has similarly refused to back down. "From demonstrating on the street to speaking up in the boardroom, PETA will push LVMH to stop selling any bag, watchband, or shoe made from a reptile's skin," PETA President Ingrid Newkirk has since stated.
In addition to holding shares in LVMH and Hermès, PETA similarly took a small stake in Prada in 2016 in order to pursue its protest over ostrich leather handbags from within the luxury fashion group. According to a statement from the activist group at the time, "PETA USA is taking the fight against cruelty into Prada meeting rooms where it will able to ask the company to end forever the use of ostrich leather in its bags."
As recently as this week, Prada announced that it will cease use of fur in its collections beginning next year; it has not sworn of using other skins, though. PETA Senior Vice President Dan Mathews said on Wednesday, "For years, PETA has pushed Prada to reject cruelty from the inside – as a shareholder at the company's annual meetings. This follows over a decade of protests by PETA and our affiliates – including crashing catwalks and organizing street demonstrations – calling on the label to shed its skins. Its decision to ban fur is a triumph for animals and activists."
"While PETA applauds Prada for joining the ever-growing list of fashion houses that are dropping fur," Matthews continues, "we now urge the brand to follow in Chanel's compassionate footsteps by also removing cruelly obtained exotic skins – including crocodile, lizard, and snake skins – from future collections."
Not to be overlooked is PETA's largest fashion investment to date: the $4,000 worth of stock –  roughly 230 shares –  at $17.15 a share it acquired when Canada Goose listed on the both the New York Stock Exchange and on the Toronto Stock Exchange in March 2017. That number of shares grants PETA reps the ability to submit shareholder resolutions and speak at the jacket-maker's annual shareholder meetings.
"PETA's first order of business as part owner of Canada Goose? To pressure the company to stop using fur from cruelly trapped coyotes and down feathers from slaughtered geese," the company said in a statement shortly after the IPO.
While old-school picketing and flour bombs may still work in some cases, and PETA has obviously seen a need to incorporate new protest tactics into the mix, including good old fashioned luxury retail therapy. However, instead of hitting the racks, PETA does its shopping on the stock market … in the name of animal rights.
["source=thefashionlaw"]